EEtimes  http://www.eetimes.com/document.asp?doc_id=1321829
BEIJING — I don't need to advocate for the power of open-source software and hardware communities. Hereabouts, I'm preaching to the choir.
We've already seen how the Arduino microcontroller board, based on 8-bit Atmel AVR, became a runaway success behind the "maker movement." Meanwhile, the Raspberry Pi — originally developed for the education market — has opened the door to a host of hobbyists looking for a single-computer board, with more processing power, to run Linux.
The story, however, doesn't end there. While the maker movement has a long history, the groundswell of global interest in open-source hardware and the variety of choices available to users has only begun. As a recent article on Make magazine pointed out:
Before Arduino and Raspberry Pi, things were more complicated. Going forward, things aren't just complicated again – they're bewildering. We're now seeing an explosion of new boards coming to market, and there's no reason to expect the trend to slow in the next year or two.
The article includes an exhaustive list of alternatives to Arduino, which include Texas Instruments' Launchpad MSP430 and Netduino based on STMicroelectronics' STM32FX. The popularity of the Raspberry Pi has also given birth to a host of new single-board computers such as TI's BeagleBone(s) and AMD's Gizmoboard.
Then, there is pcDuino.
Call me naïve, but I confess I knew nothing about pcDuino until a recent visit to China. When I was discussing the maker movement with Eva Wu, marketing manager of Allwinner Technology, in Zhuhai, China's leading apps processor vendor, she pointed me to pcDuino and the man behind it, Jingfeng Liu.
It turns out that the pcDuino is based on Allwinner's A10 (based on ARM Cortex A8 single-core CPU); and its newest version, pcDuino version 3, announced last week, comes with Allwinner's A20 (ARM Cortex-A7 dual-core CPU).
I eventually caught up with Liu in Beijing.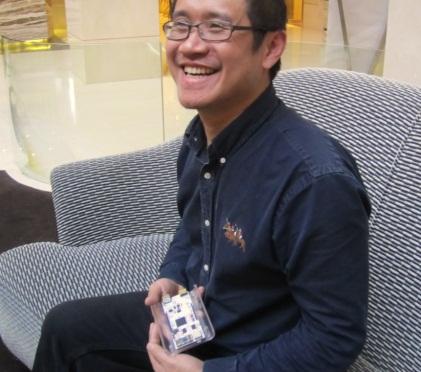 Jingfeng Liu, ex-Marvell engineer, started pcDuino.
Liu, a US citizen who lives in Colorado, happened to be traveling in Beijing when I was there. Liu, who calls himself a pcDuino evangelist, was talking it up to government officials, along with educators and students at Tsinghua University (which already has course work based on pcDuino).
A graduate of Carnegie-Mellon University and an EE who worked at Marvell in Silicon Valley as a chip designer for hard disk drives, Liu founded pcDuino a few years back. He describes it simply as "Mini PC + Arduino."
He called pcDuino "a mini PC platform," running a PC-like OS such as Lubuntu — a lightweight Linux operating system based on Ubuntu — and Android 4.0 ICS. It outputs video through the HDMI port. But its claim to fame is that it has a hardware header interface compatible with Arduino.
In other words, the pcDuino differs from other single-board computers in that it's designed to work with hundreds of Arduino "shields" and a variety of add-on modules. The pcDuino makes them pluggable, Liu explained.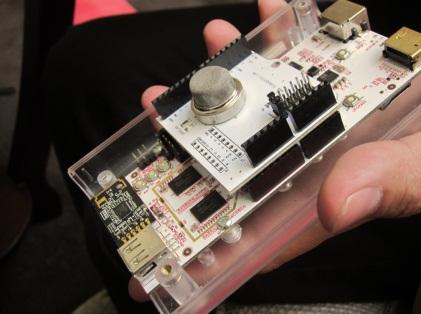 pcDuino motherboard with Arduino boards stacked up on top.
One day, Liu realized that all Arduino hardware users don't necessarily speak the same language as people working in the Linux software environment. He told me, "With pcDuino, we've done the homework by writing all the drivers necessary to plug in Arduino shields," so users don't need to spend endless hours figuring out how to connect a variety of Arduino shields others have already developed.
Why Allwinner's chip?
Asked why he picked Allwinner's apps processor for pcDuino, Liu cited its abundant peripherals and open structure.
Galileo, a microcontroller board based on Intel's Quark SoC X1000 apps processor, could have done similar jobs, said Liu, "but you'd need to add bridge chips."
Course work based on pcDuino is already offered in the US at the University of Colorado and the University of Florida, according to Liu. In China, a number of universities, other than Tsinghua University, have signed up. They include Zhejiang University, Hangzhou Electronics Technical University, Xi'an Telecom University, and Xidian University.
The pcDuino movement isn't limited to China, but it's certainly gaining popularity there. For example, Liu tells the story of a Shenzhen-based company that used to distribute Lenovo PCs. The company, with no prior experience of designing its own hardware, came up with its own virtual desktop, based on pcDuino. Meanwhile, it leveraged Citrix ZenServer, an open-source virtualization platform for managing cloud, server, and desktop virtual infrastructures.
Unlike in the West where makers tend to be middle-aged hobbyists with good jobs and discretionary income, makers in China are mostly university students in the hacker space, eager to launch their own companies someday. Those in China who already have their own businesses see the use of single-board computers like pcDuino as a means to "go up the food chain."
Potentially, Liu's China connection could come in handy for system designers using pcDuino but with no experience in manufacturing: "We could help facilitate cloud manufacturing."
With the number of single-board computers multiplying on the market, the race is on — in terms of how far those boards can extend. Liu and his team have just rolled out pcDuino version 3. Listed by Liu among unique features that "only pcDuino3 can offer" today are a SATA host connector, an infrared receiver, a touch LCD screen interface, and a high-speed camera interface. Liu noted that the SATA host connector is significant so that a SATA drive can plug directly into pcDuino3. "This is perfect for network-attached storage, home media center applications."
Asked about plans beyond evangelizing pcDuino, Liu said, "I would eventually like to make a good, usable directory for open-source hardware. The open-source community is great, because there are so many solutions, developed by someone, out there, free for anyone to grab. But it's really hard to find exactly what you want among so many codes and solutions."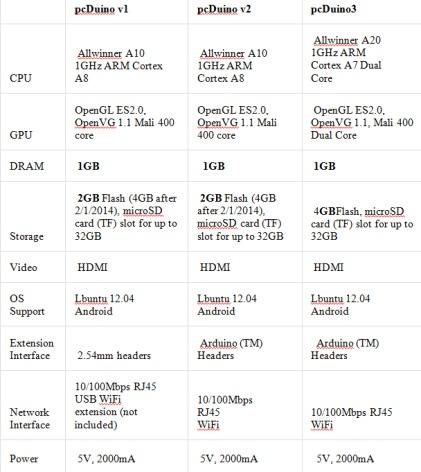 What each version of pcDuino comprises.