The system diagram of the LinkSprite Vision Sense AI Video Analytics solution is shown below: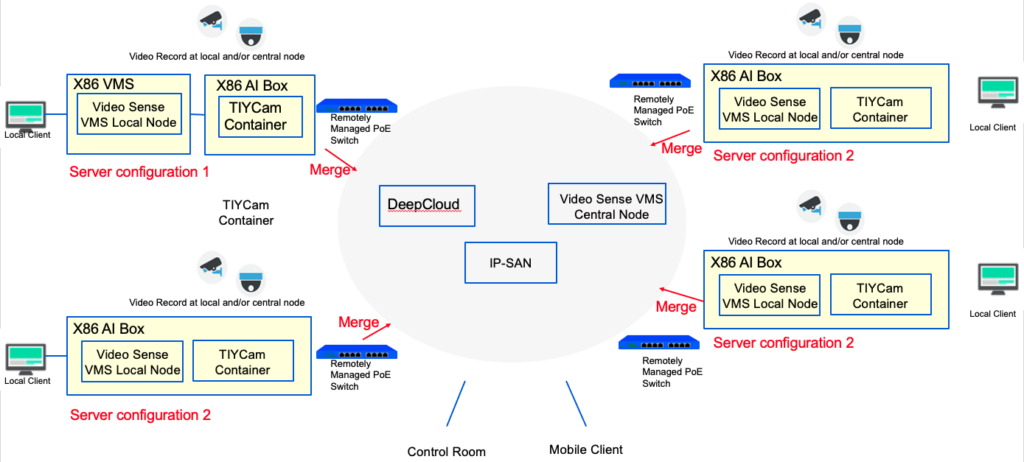 From functions point of view, the existing IP cameras can be connected to local VMS, and then video stream passing from VMS to AIbox for video analytics, which has configurable TIYcam container (TIY for train it yourself). The results data are pushed to the central DeepCloud platform to record the log and subsequent processing and display.
Depending on the number of cameras in the local site, there are two server configurations:
The recommended first configuration is to have separate VMS server and AI box if the number of cameras is more than a dozen. This is because the AI processing can take a lot of computation resources of the server and make the VMS software not respond well.
If the number of cameras is less, then we can use the second configuration, where we combine the VMS server and AIbox into one physical server.
Configuration 1:
VMS server:
| | |
| --- | --- |
| Item | Specification |
| CPU | Intel i5-6700 |
| Storage | 1T HDD and 500GB SSD (Two Storage devices are required, one for system, and the other one for storage) |
| Network port | 2 x RJ45 |
Server Specification for VMS server
AI Box:
| | |
| --- | --- |
| Item | Specification |
| CPU | Intel i7-6700 |
| Memory | 32GB DDR4 2666 |
| GPU | Nvidia RTX 3060 |
| Storage | 500GB SSD |
| Network port | 2 x RJ45 |
| USB | 4 x USB 3.0, 2 x USB 2.0 |
| Power | 1U 600W |
| Display Port | 1 x HDMI, 2 x VGA |
| Serial Port | 1 x RS232 |
| Audio | 3 Audio connect Port |
| Size | 120mm*270mm*280mm |
Server Specification for AIBox