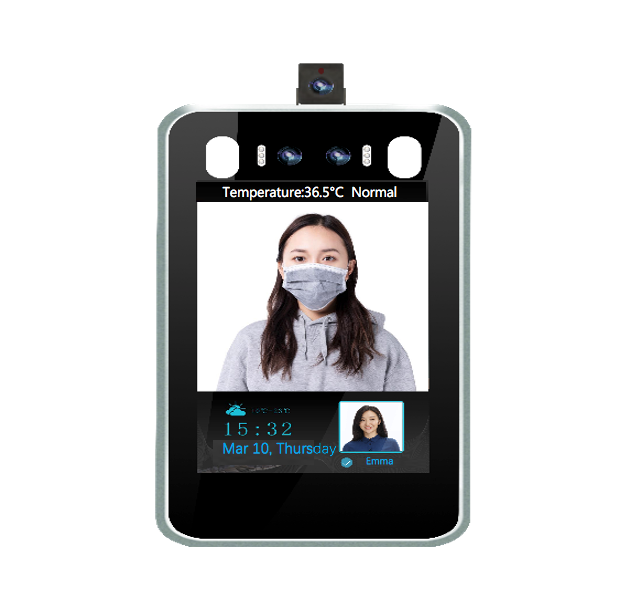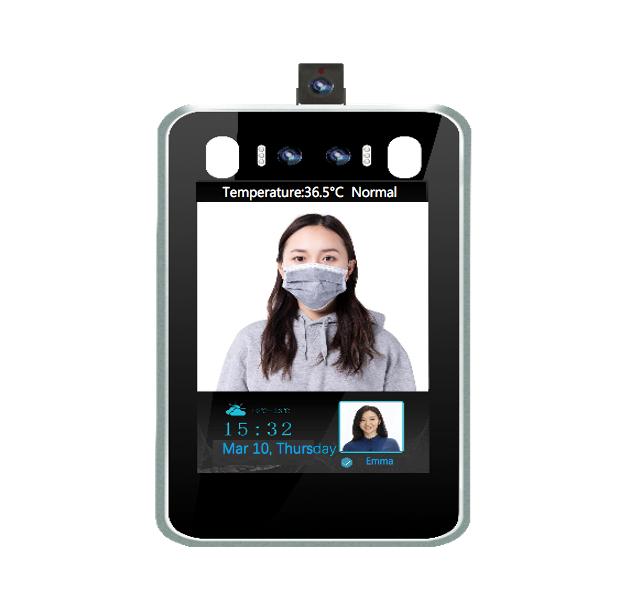 DISCLAIMER: THIS IS NOT A MEDICAL DEVICE AND HAS NO FDA CERTIFICATE, it has FCC and CE.
Product Introduction:
The 8-inch binocular facial recognition
fever screening access tablet allows person in based on facial recognition and
takes temperature simultaneously. It implements the following functions:
face-based access control, anti-spoof, fever screening, attendance reporting
and no-face-mask alerts. The fever screening tablet can also be managed with
cloud reporting.
Applications:
Schools, office building, hospital, public transportations
Product Highlights:
Accurate Facial Recognition
Liveness Detection
Facial Recognition Algorithm Even with Face Mark
Fast Recognition Time within a Second
Supporting Multiple Complicated Environments
Support Local Database of 25000 Subjects
No face-mask face alert
Infrared Temperature Measurement
Non-contact Infrared Temperature Measurement
Accuracy: ±0.3°C
Real-time Body Temperature Display
Fever Alert
Reliable Hardware Platform
Reliable Linux System
Working Environment : -25°C to 60°C
Weatherproof: IP65
Hardware
Processor
3516DV300
System
Linux
System
Storage
16G
EMMC
Image Sensor
1/2.7″
Progressive Scan CMOS
Focal
Length
4mm
Facial
Recognition
Recognition Distance
0.5~2
m
Supported Face Pose
Horizontal 30 Degrees, Vertical 30 Degrees
Recognition Time
<1 s
Face Database
22400+ Face
Database and 100000 Recognition Records
Interface
Relay
1
Channel
The
Power Supply
DV12V/3A
Network
Interface
1
RJ45 10M / 100M Adaptive Ethernet Port
Wigan
Output Interface
1
Wigan Interface Output, Supporting Wigan 26 and 34
Wigan
Input Interface
Default
None
USB
Interface
2
Cameras
Camera
One
RGB camera and one 850nm infrared camera, Supporting Liveness Detection
Pixel
200
Million Effective Pixels,1920*1080
Minimum
illumination
Color
0.01Lux @F1.2(ICR); Black and White 0.001Lux @F1.2 (ICR)
SNR
≥50db(AGC
OFF)
Wide
Dynamic Range
≥80db
General
Working
Temperature
-30℃
– +60℃
Working
humidity
5
~ 90% relative humidity, no condensation
Power
Supply
DC12V/3A
Power Consumption
20W(MAX)
Tablet
Size
147.5(W)
* 24(T) *243(H)mm
Screen Size
8
inch
Weight
2kg
Thermal Imaging Module
Detector
Type
Uncooled
Infrared Array Sensors
Main
Operating Band
8—14um
NETD
≤60mk
Temperature Measurement
Range
20℃-50℃
Distance
0.4-1m
Accuracy
±0.3℃
Array Size
32 x 32
The
Power Supply
Working
Voltage
DC5V
Power
Consumption
≤0.5w
Working
Environment
10℃-45℃