Leading Edge Head Counting Algorithm With 99% Accuracy and Web / App Visual Data View

LinkSprite releases another weapon to fight COVID-19 – the head counting camera for indoor person flow monitoring and control.
The camera uses an advanced head detection algorithm on 1080p resolution video streams. It detects heads in the picture and tracks their movement trajectory, and calculates the two-way person flow. It sends the statistics in real-time to a cloud server or a local host software for display or generating a warning message.
The system can be deployed at stores, schools, hospitals, and other places where the person flow needs to be monitored or controlled.
Product Features
Real-Time Person Flow Statistics
Single device two-way statistics
Flexible date range query: Query of historical person flow data by day, week, month, quarter, or year.
Data management platform: Web / APP / local client
Large screen dashboard display and data visualization
Chain store management: Multiple stores can be managed in our account
Multi-account management: Support main account and multiple sub-accounts
Product Advantages
Cutting edge head counting algorithm: The camera is embedded with accurate head detection and movement analysis algorithms. It does not count until the person leaves the camera view, effectively filtering persons wandering under the camera.
Highly Accurate Statistics: An accuracy of 99% is achieved in typical test environment.No disturbance by person blockages
No disturbance by person blockages
Wide Coverage: Coverage height: 2.5-4.5 m; Large FOV camera can cover 3.9m in width
Cloud Server: Easy management, easy expansion, remote maintenance, low cost
Simple installation and easy to use
Easy integration: Standard APIs for third-party further development
Applications

Specifications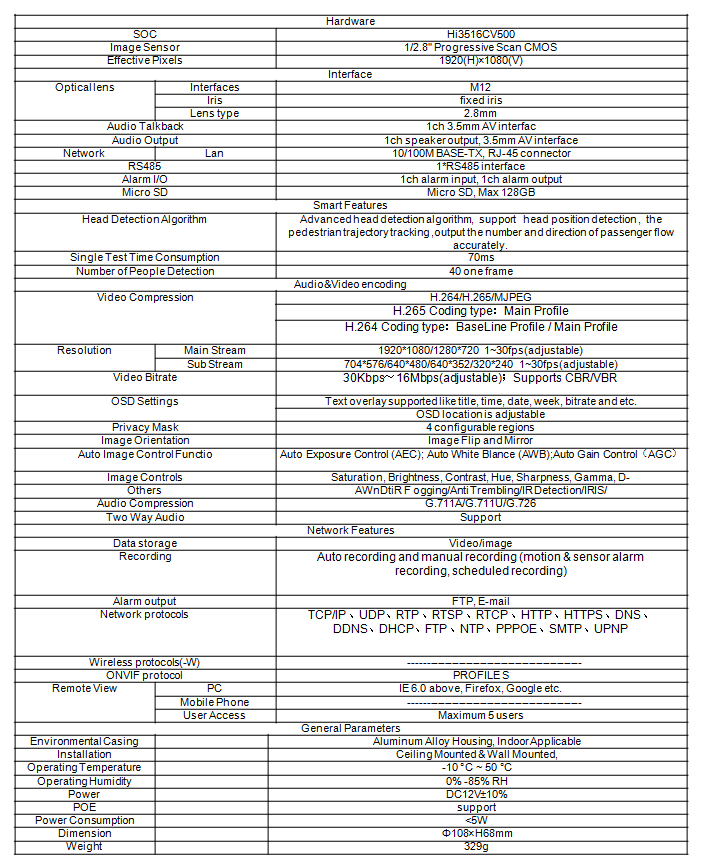 Flyer