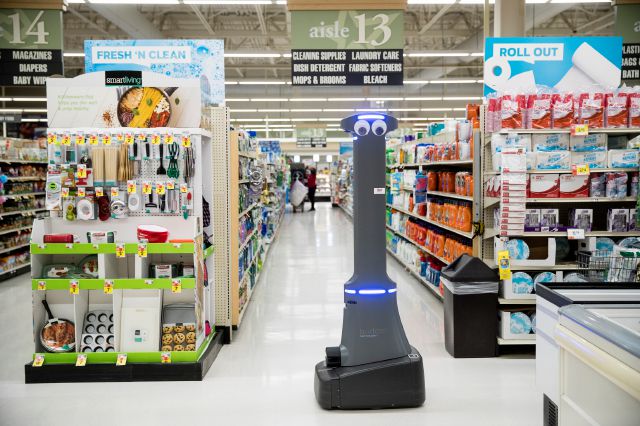 Customers of local Stop & Shops may have recently noticed a pillar-like machine with blue lights roaming the store.
The robot known as "Marty" was added as part of a new technology initiative nationwide. The 6-foot-tall robot alerts employees to spills and other situations that require cleanup. Nearly 500 of the robots have been stationed at grocery stores around the country.
The machine was developed through a partnership between Retail Business Services and Badger Technologies, a product division of Jabil Retail. The robots will also appear in select Giant and Martin's stores.
Badger Technologies CEO Tim Rowland told the Associated Press that each machine is equipped with eight cameras and uses laser-based sensors to detect spills before sending a cleanup message over the loudspeaker.
A robot observed this week at Stop & Shop on North Colony Road in Wallingford moved about the produce section from aisle to aisle. Some shoppers walked up to get a closer look, while others took photos from afar.
he robot made a beeping sound when shoppers approached before turning and going in the opposite direction.
Local resident Mike Farrell said he first encountered the robot in the deli area when he was shopping last week. His first impression was that it was "tall."
"It's surprising," Farrell said. "I had wondered what it was, if it was a big vacuum cleaner or something. It's funny because you don't know what it's doing."
Farrell said he watched as the robot moved back and forth in a particular spot in an attempt to avoid shoppers.
"It's like it couldn't figure out where it was," Farrell said. "It was stuck between two rows of stuff and it would just move forward and backward."
Other local residents questioned its purpose.
"It's a gimmick. It takes jobs away from people," Raymond Kennealy said.
According to a Retail Business Services release, the deployment of robots will continue through 2019 as part of a pilot program to improve in-store efficiency and safety. The purpose is to "enable associates to spend more time serving and interfacing with customers."
"We are excited to be a part of this industry-leading rollout of fully autonomous robots that collect safety data while traversing retail stores," said Frederic McCoy, Jabil Retail Senior Vice President.
Source: http://www.myrecordjournal.com/News/State/Wallingford-Stop-and-Shop-introduces-new-robot.html#gallery-2