LinkSprite begins to sell the first model of affordable consumer-level gun detection cameras.
Empowered by a highly optimized object detection algorithm for an embedded device, we push all GPU/CPU-intensive computation to the edge device – the camera. As a result, we make our gun detection camera low cost, and affordable for individual customers.
As far as we know, this camera is the first consumer level gun detection camera in the market that does not use video streaming or a designated server for the inference.
This mini dome camera can work day and night to capture guns around your house and business. When a gun is detected, a frame of the video is sent to the LinkSprite Deepcloud (deepcloud.linksprite.com), and a notification is pushed to you in the IOS/Android app called Percepcam. You can manage the devices or data on the app or on a webpage.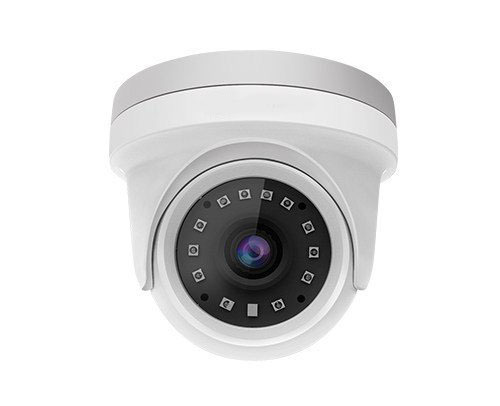 Demo of Gun Detection on PC
Features
Video resolution: 2M pixels; Video compression standard: H.265+/H.265/H.264;
Supports digital wide dynamic, night vision optimization, with image clearer and smoother;
Supports automatic restart when power failure or unexpected failure;
Supports monitoring for day and night: IR cut filter with an auto switch; Color image auto switch to black/white;
Support P2P remote video view from the mobile app;
Built-in AI deep learning gun detection and tracking algorithm. The tracking algorithm reduces the number of frames sent to the cloud and notifications sent to the user;
Real-time notification within 2 seconds after a gun is detected;
Mobile APP called "PercepCam".
Dimensions (mm)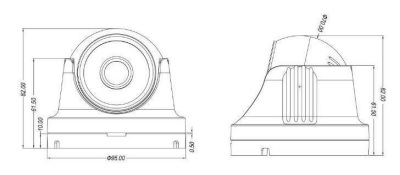 Technical Specifications
Camera
Sensor
1/ 2.8" CMOS
Video Resolution
1920*1080@30fps
Video Compression standard
H.265+/H.265/H.264
Max Video
1080p@30fps
S/N Ratio
55.7db
Video Bitrate
40~8192 Kbps
Min Illumination
Color :0.0002Lux@ (F1.2, AGC ON) ;Black & white :0.0001Lux@ (F1.2, AGC ON) ,0Lux with IR
AI Smart Function
Image Resolution
1920*1080
Capture Times
Can be set
Face Exposure
Supports
Response Time
40ms
Maximum capture faces in one frame
30
Functions
Day/Night Switch Mode
Supports
Audio Coding Standard
G711A/G711U
Privacy Cover
Up to 4 privacy zones
Remote Operation
Supports
Image setting
Brightness, contrast, saturation and sharpness are adjustable
Exposure Control
Supports
Auto White Balance
Supports
Image rollovers
Supports mirror and flip
Network Parameters
Network Interface
10M/100M Adaptive Ethernet, RJ45 port
Network Protocol
HTTP, TCP/IP, UDP, ICMP, SMTP, DHCP, DNS,RTSP,RTCP,NTP,FTP,DDNS,RTP
Bitstream
Double streams
Interface Protocol
ONVIF, CGI, GB28181
APP
OS
iOS/Android
General Parameters
Dimensions (W*H*D)
100x100x85mm
IR distance
30 m
IR LEDs Type
Third Generation IR LEDs Technology
Operating Temperature
-20°C~60°C
Humidity
RH 10%~90%
Power
DC12V/2A
Power Consumption
Day≦2W; Night≦ 6W
Test Reports
User Guides
General tutorial: How to add Percepcam cameras to Deepcloud
Tutorial: How to use your gun detection camera on Deepcloud
Video: How to use your gun detection camera on Deepcloud webpage
Video: How to use your gun detection camera on mobile app Percepcam